Austin has been among the
fastest-growing areas
in the US for years, which means an influx of new people— and families. Deciding which neighborhood to move to can be a challenging decision. But when you throw in the factor of selecting a place for not just you, but your precious family, it can make the choice that much more important, as well as difficult.
Here, we'll cover some of the best neighborhoods for families based on several factors. We'll break down our findings one by one so that you can weigh your options and choose the best neighborhood for you!
Our Criteria for Choosing Family-friendly Neighborhoods in Austin
We based our rankings for best family neighborhoods on three central aspects: academic scores, extracurricular activities, and the overall community feel. Based on our experts' knowledge, research, and the current public ranking statistics that determine the best school districts, we'll determine which communities are ideal for families in the Live Music Capital.

Our top three school districts in Austin are Eanes ISD, Round Rock ISD, and Lake Travis ISD, and extra points are awarded for neighborhoods in this area. Then, we considered community factors like crime rate and active options in the area to round out our rankings.
Table of Contents:
The Best Family Neighborhoods
The Best Family Neighborhoods
1. Lost Creek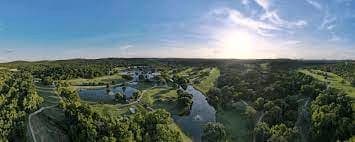 Perfect for families with kids of all ages looking to truly grow roots they can hold onto forever.
Average Home Price:
Average Cost of Living: than the Texas average
Crime Rate:
​​
than the Texas average
With rolling hills that feature incredible vistas, a , and endless natural trails to explore, you and your loved ones will never run out of wholesome ways to spend time together. Not to mention amazing access to the best schools, shopping, and dining with zero inner-city fuss.
Located in the coveted and highest-ranked school district in the Austin area, offers laid-back elegance in Eanes Independent School District (Eanes ISD). Plus, you're only 15 minutes from downtown and central Austin activities.
Homes in Lost Creek
Lost Creek consists of about 1200 homes total, all of which are located on the West side of Austin, adjacent to Barton Creek. Homes in the area range from sprawling estates to mature larger homes. Most have mature tree-lined yards and views of the beautiful Texas Hill Country. Most homes will have plenty of space for a growing family of any size!
Family Fun and Activities
Lost Creek provides a wonderful array of attractions for adventurous families, including miles of wooded trails and seasonal waterholes, The Lost Creek Neighborhood Park, Wild Basin Wilderness Preserve, boating, and tubing on "Lake Austin."
Residents here are also only a quick drive from Barton Creek Mall, the city's largest indoor shopping center with more than 180 exceptional stores and dining establishments.
Lost Creek's Ranking
Academic Score: 5/5
Community: 5/5
Activities: 5/5
Homes For Sale in Lost Creek!
---
2. Lakeway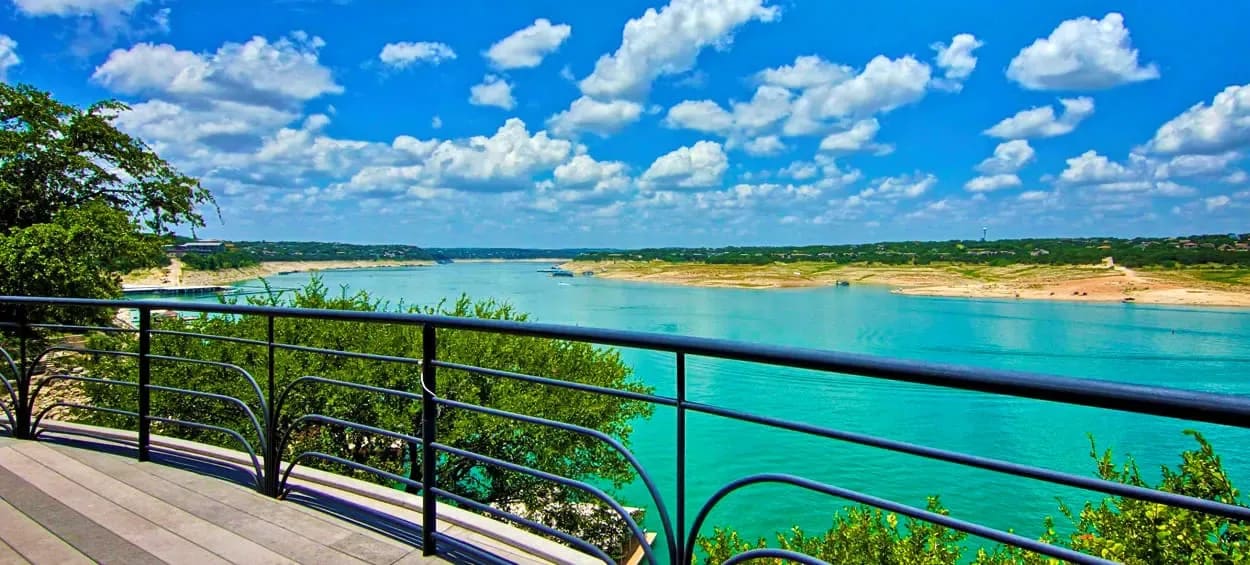 Exquisite lakeside community with everything you could possibly need for families of all types and ages.
Average Home Price:
Schools:
Average Cost of Living: than the Texas average
Crime Rate: than the Texas Average
Nestled between Highway 71 and the glistening shores of the Colorado River ("Lake Travis"), Lakeway offers an elegant region of single-family homes and pods of shopping centers for families of all sorts. Lakeway is also home to the incredible schools of Lake Travis ISD so kids of all ages are sure to receive a promising education and be showered in community support.


The Lakeway area presents ample opportunities to get outside and explore with your family, including multiple marinas for water fun, green spaces with trails and views, and tennis and golf complexes for sports lovers.
Homes in Lakeway
One can find a variety of homes in Lakeway, from large waterfront estates to more modest homes on large lots. There are even areas with fresh lots still available to build on.
For this reason, homes can include immaculately restored older homes to new builds. Many enjoy views of the lake or hill country, or cozy, nature-rich yards. Either way, families here will have plenty of room to roam!
Family Fun and Activities
The family fun does not stop when it comes to Lakeway's vast selection of entertainment and attractions. Besides the obvious main feature, Lake Travis, and its handful of amazing parks and green spaces, Lakeway offers indoor activities like the Lake Travis Community Library and gaming and more at
.
Lakeway's Ranking
Academic Score: 5/5
Community: 3/5
Activities: 4/5
---
3. West Lake Hills
West Lake Hills (also known as Westlake) is a small haven of natural beauty just ten minutes from downtown and also near shipping, dining, and schools.
Average Home Price:
Schools:
Average Cost of Living: than the Texas average
Crime Rate: than the Texas average
With the ideal location between the start of west Austin's rolling hills and the booming downtown center, West Lake Hills offers both peace and convenience for those looking to create a true family oasis. Enjoy being just minutes from downtown, Zilker Park, Barton Springs, and other city hot spots.
Homes in Westlake
Homes in Westlake have typically been built for some time, yet they are some of the most sought-after in Austin proper. Many are spacious, remodeled mature homes or mid-century modern masterpieces.

In recent years, some people have chosen to tear down older homes because of their stellar location and have built new homes with clean, modern architecture. No two homes are alike, here, and all are shaded by mature trees.
Family Fun and Activities
When you live in West Lake Hills, you will be a quick drive from many perks for the entire family. Head to Zilker Park for sunsets and skyline views - the kids can even ride the train or play on the huge playground.

During the holidays, the park is transformed into the famous Trail of Lights. Red Bud Isle and Wild Basin Wilderness Preserve are great spots in the neighborhood for soaking in the surroundings.
Westlake's Ranking
Academic Score: 5/5
Community: 5/5
Activities: 3/5
---
4. Rollingwood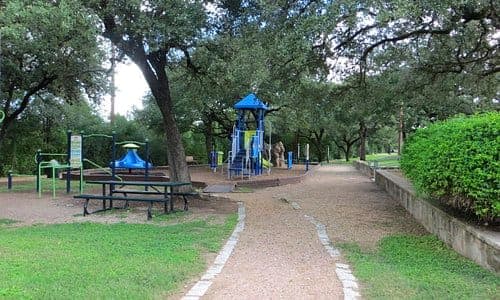 A quaint community located right next to West Lake Hills, Rollingwood is just a tad closer to downtown and is a great spot to raise a family.
Average Home Price:
Schools:
Average Cost of Living: than the Texas average
Crime Rate: than the Texas average
Rollingwood is a sophisticated community that provides gorgeous scenery with mature trees and well-appointed homes. Situated just minutes from downtown and Zilker Park, Rollingwood offers the ideal fusion of Westlake and old-Austin elegance and is a wonderful option for finding a family-friendly community and home.

Find a wide array of local parks and river access nearby as well as a handful of delicious eats and great shopping within its borders, as well as everything you need for full family life.
Homes in Rollingwood
Similar to Westlake homes described above, there is an eclectic array of home types available in the Rollingwood area. Some homes have been there for years, many with recent updates and large, tree-lined yards. Other people have chosen to build new, many choosing modern designs with sleek lines. Most are spacious, with plenty of room for kids and pets.
Family Fun and Activities
Rollingwood is a short trip to Zilker Park, kayaking on the river, or grabbing some of the best ice cream in the city at Amy's Ice Cream. You can also have an educational and exciting trip to the Austin Nature & Science Center.
Rollingwood's Ranking
Academic Score: 5/5
Community: 4/5
Activities: 4/5
---
5. Spicewood Springs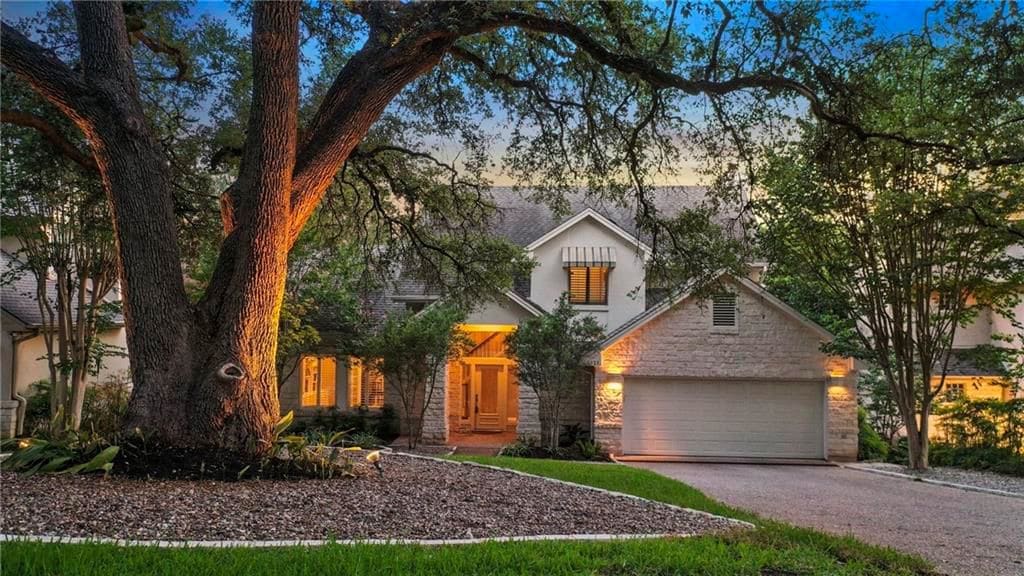 A gorgeous slice of northwest Austin with gorgeous homes on larger lots, natural green spaces, access to amazing schools, and many Austin food staples.
Average Home Price:
Schools:
Average Cost of Living: than the Texas average
Crime Rate: than the Texas average
Spicewood Springs is a lovely oasis in northwest Austin, boasting tree-lined streets to please the eyes, a kid-worthy lineup of eateries, and close proximity to Austin ISD's educational establishments.
When you choose the Spicewood area for your home base, you are able to experience the best of the larger Great Hills region. If you need to reach downtown, the city's center is only 20 minutes away for simple access to city center arrangements.
Homes in Spicewood Springs
The Spicewood Springs area is a mature area featuring gorgeous, larger homes, many of which have been kept up immaculately. Large yards are the norm, despite the neighborhood's location within the city, and it's not uncommon to see huge oak trees on the oversized lots. There are also a number of condo complexes in the area, many with a treehouse feel and spacious layouts.
Family Fun and Activities
To get outside on beautiful spring days, take the family for a stroll around Stillhouse Hollow Nature Preserve and the Bull Creek Greenbelt. Find breakfast tacos the kids will love at both Taco Shack and Torchy's Tacos. Additional fun-filled spots include Playland Skate Center, Highland Lanes, and The Original Pinballz Arcade.
Spicewood Springs' Ranking
Academic Score: 2/5
Community: 3/5
Activities: 5/5
---
6. Barton Hills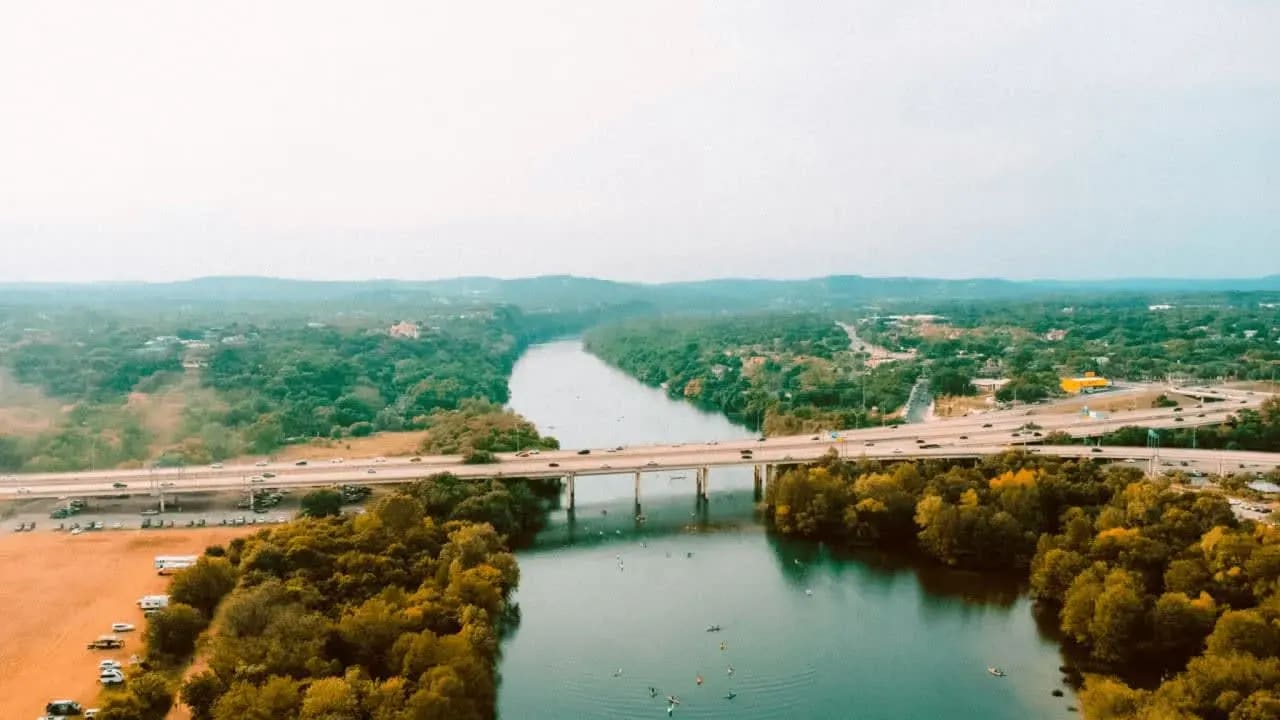 For those who want the best of city and nature combined into one eclectic Austin neighborhood that is totally family-centric.
Average Home Price:
Schools:
Average Cost of Living: than the Austin average
The gorgeous stretch of land bordering Barton Creek is home to the equally gorgeous scenery of Barton Hills. This community boasts excellent options for families looking to settle into one of the most active and vibrant areas of town.
In addition to having the best access to ACL's famed festival turf, Barton Hills is also just minutes from downtown and is home to wonderful Austin ISD schools. This neighborhood is also extremely walkable and residents can easily visit great dining options and shops of all kinds.
Homes in Barton Hills
Barton Hills boasts being one of the most classic Austin neighborhoods, one of the first established yet immaculately cared for. Homes in this area are mature updates or teardown/new builds. You will find some fixer-uppers in this area, but they are diamonds in the rough. The spacious lots and eclectic atmosphere that come with living here make for a competitive real estate market.
Family Fun and Activities
The central locale of Barton Hills leaves you and your family within a stroll, bike ride, or drive from beloved Austin classics. Head to Zilker Park's 350 acres, dip in Barton Springs, take the kids to the botanical gardens, and in October, take the kids to their first "Austin Kiddie Limits."
Barton Hills' Ranking
Academic Score: 2/5
Community: 4/5
Activities: 5/5
---
7. Austin Lake Hills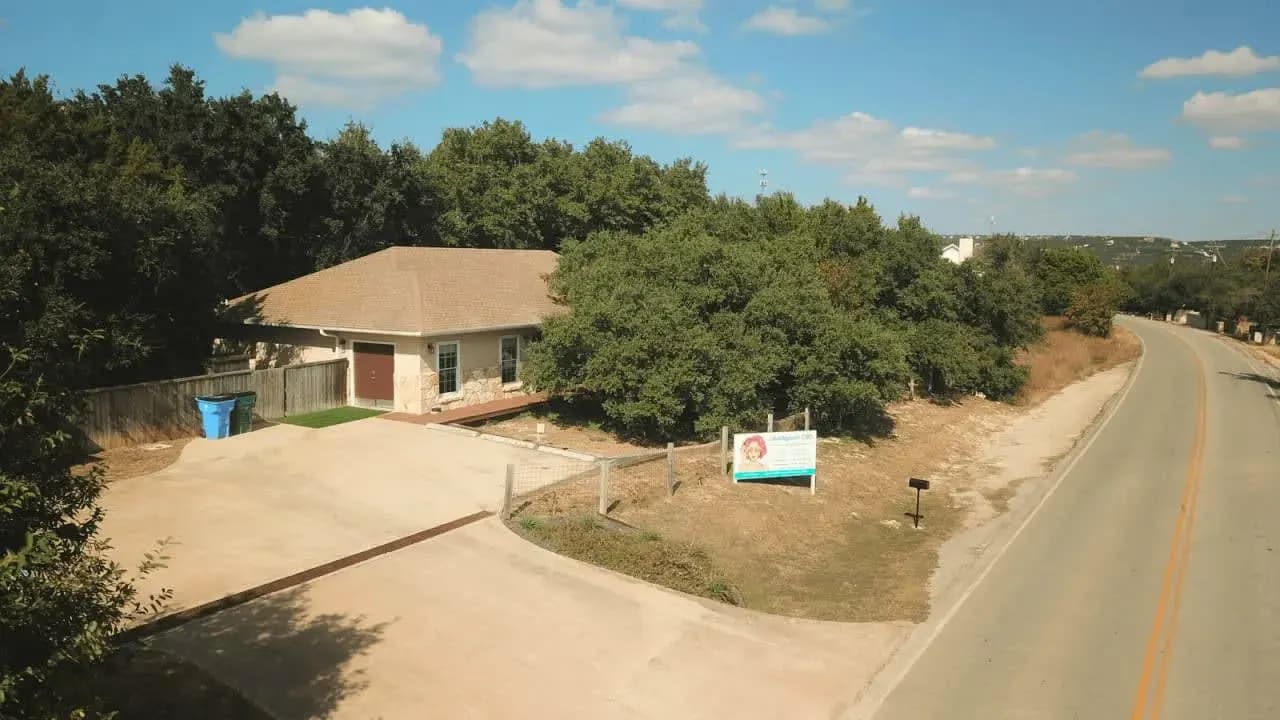 For those who want a peaceful lakeside neighborhood with more sunny play days and fewer city distractions.
Average Home Price:
Schools:
Average Cost of Living: than the Texas average
Crime Rate: than the Texas average
Austin Lake Hills is a small pocket of a larger neighborhood called Cuernavaca. If you are lucky enough to find a home you love here, we recommend joining the waitlist for .
This incredible community association offers a gorgeous lakeside park with a guarded swimming pool (and swim team), a roped beach section, a boat ramp, and a safe environment to bring the family. The current wait period is about two years, but if you plan to stay long-term, becoming a part of the Lake Hills community is a must.
Homes in Austin Lake Hills
Cuernavaca has a wide array of different homes. As an unrestricted neighborhood, you will see home types ranging from trailers to seven-million-dollar lakefront estates. Most enjoy sprawling lots situated next to calm roads, perfect for kids to play and explore.
Family Fun and Activities
While Austin Lake Hills is great for a quieter place to raise a family, there are fewer establishments and shops located as close as some of the other neighborhoods on this list offer. The main activities here for families include (of course) Lake Austin fun like tubing, boating, kayaking, and more. Commons Ford is a great park to bring the kids to (it does get pretty full and relatively rowdy on hot summer afternoons, though).
Austin Lake Hills' Ranking
Academic Score: 5/5
Community: 2/5
Activities: 4/5
---
8. Lago Vista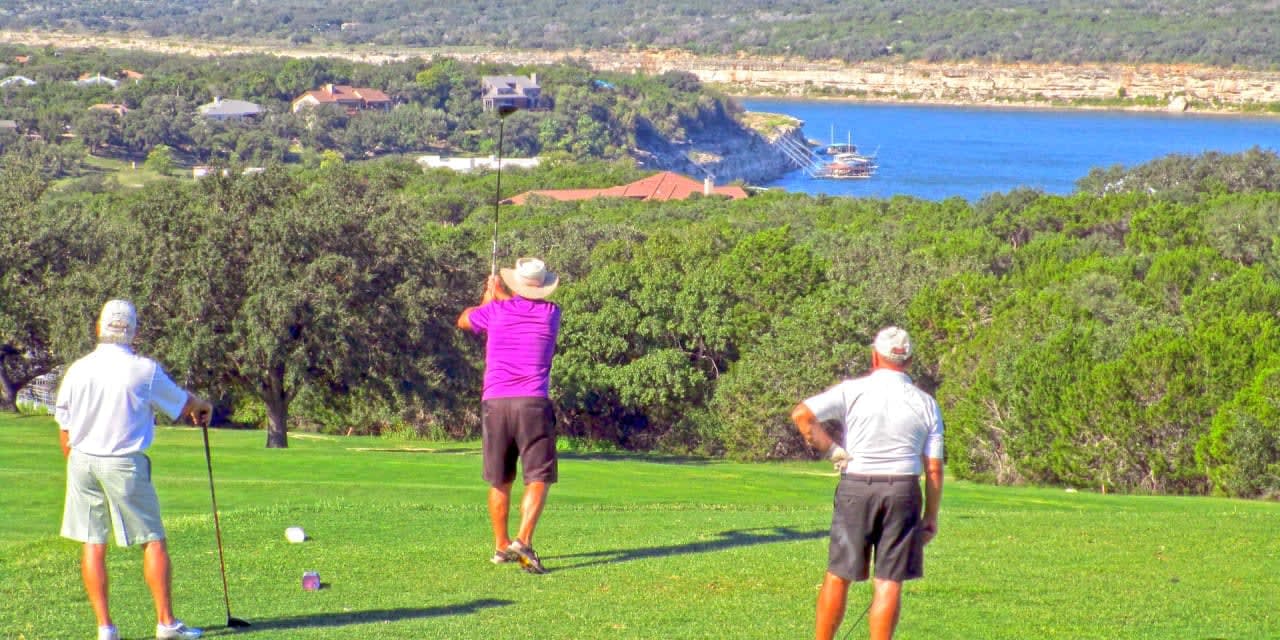 A Lake Travis gem for those who want a tight-knit community with year-round fun for the entire family.
Average Home Price:
Schools:
Average Cost of Living: than the Texas average
Crime Rate: than the Texas average
Lago Vista is a thriving neighborhood settled on the north shores of Lake Travis. This community sits 45 minutes from Austin proper but provides everything you need and more without having to make trips to Austin.
Homes in Lago Vista
Since Lago Vista is a large area, even considered more of a suburb than a neighborhood, there are a wide variety of homes to choose from. There are plentiful new builds if you're craving a fresh start, or mature updated homes, fixer uppers, and even lots where you can build a custom home. With so many choices, all you have to do is decide what your dream house looks like!
Lago Vista's Ranking
Academic Score: 2/5
Community: 3/5
Activities: 5/5
---
9. Forest Creek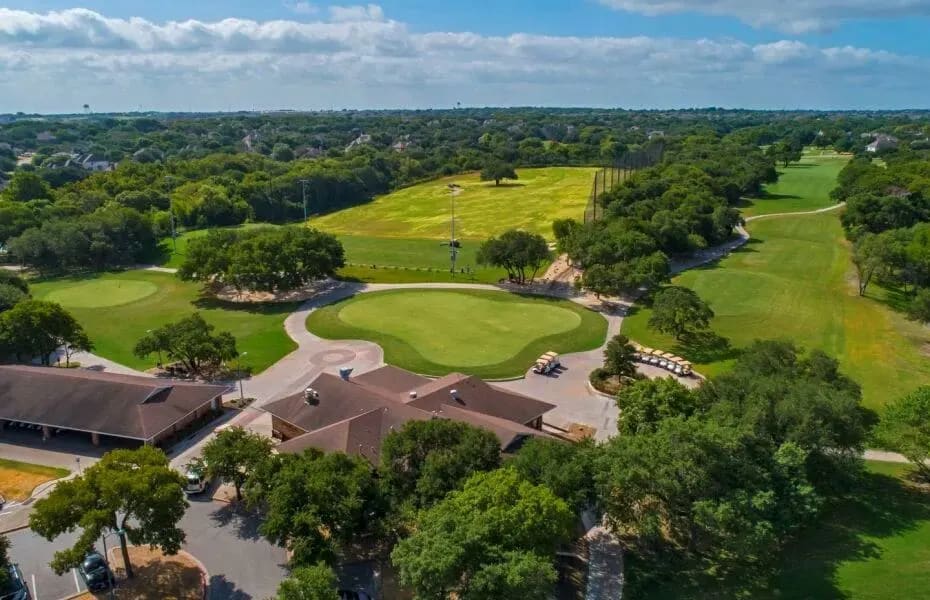 For those who want a picturesque suburb with unbeatable community perks, especially for those with little ones.
Average Home Price:
Schools:
Average Cost of Living: than the Texas average
Crime Rate: than the Texas average
More than just a conglomerate of homes, Forest Creek presents a true oasis for empty nesters and new parents just alike. A sophisticated suburb of Round Rock, Forest Creek is situated between Interstate 35 and Highway 130, seven miles from this Austin suburb's charming downtown.
While this neighborhood is almost an hour from Austin proper, its lush lawns, tree-lined streets, and one of the best golf clubs in the region. Residents of Forest Creek also enjoy access to multiple pools, playgrounds, tennis courts, and a creek.
Homes in Forest Creek
Forest Creek is a master-planned community, which means homes in the area all follow a similar style. Featuring mostly brick homes with spacious floor plans and decent-sized lots, this is the quintessential suburb feeling. While many houses are in close proximity to their neighbors, backyards are typically large enough for any activities your family may have planned.
Family Fun and Activities
In addition to the pools and recreational areas, Forest Creek hosts annual events for its families and neighborhood members. Enjoy community-wide garage sales, holiday parties, and friendly-fun contests. Added family perks of this Central Texas hub include the Free Little Library, the Spring Carnival, summer camps, fitness programs, and more.
Forest Creek's Ranking
Academic Score: 4/5
Community: 3/5
Activities: 2/5
---
10. The Hills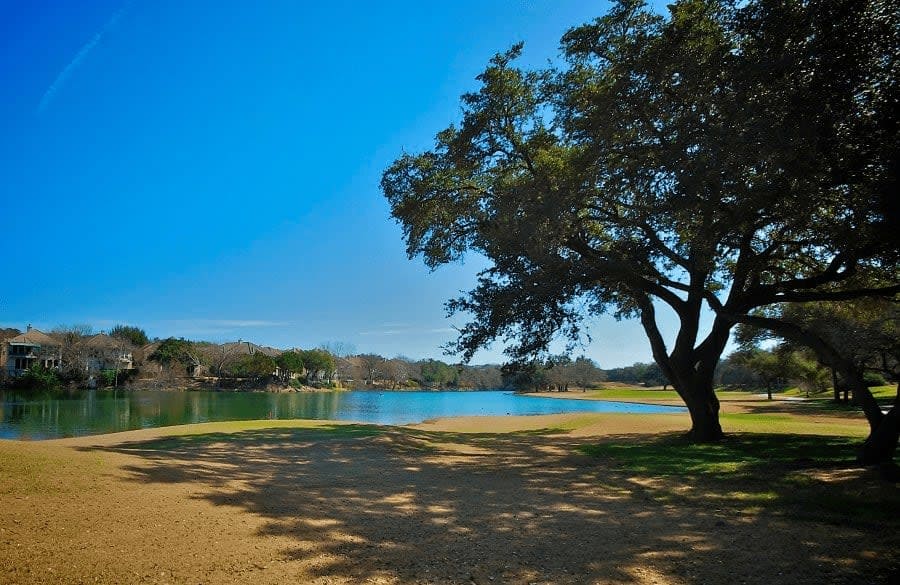 A highly distinguished pocket of larger homes for those looking for a long-term place to grow roots in the Lake Travis area.
Average Home Price:
Schools:
Average Cost of Living: than the Texas average
Crime Rate: than the Texas average
A coveted community in the larger Lake Travis Area, The Hills of Lakeway provides an incredible place for families to grow roots. You'll be just minutes from the sparkling shores of Lake Travis, as well as extremely close to a wide array of hiking trails and two championship .
For shopping and entertainment, take a short drive to the Hill Country Galleria, a 1.3-million-square-foot lifestyle center with excitement for the entire family unit. For the adults, there are plenty of trendy restaurants and happy hour spots located in this shopping facility as well.
Homes in the Hills
Homes in the Hills range from large estates with sprawling, Hill Country views to new builds to condos— there is something for everyone here. For families, houses with ample yard space are plentiful and many have community lake access. Since this is considered part of the Bee Cave area, many homes offer a "country" feel while still affording you access to city-style amenities.
Family Fun and Activities
What The Hills of Lakeway make up for in homes, the community lacks in walkable activities and attractions. Most entertainment, parks, and services are a drive away, but you should be able to find most of what you need within a five to ten- minute commute.
The Hills' Ranking
Academic Score: 4/5
Community: 3.5/5
Activities: 3/5
---
11. Behrens Ranch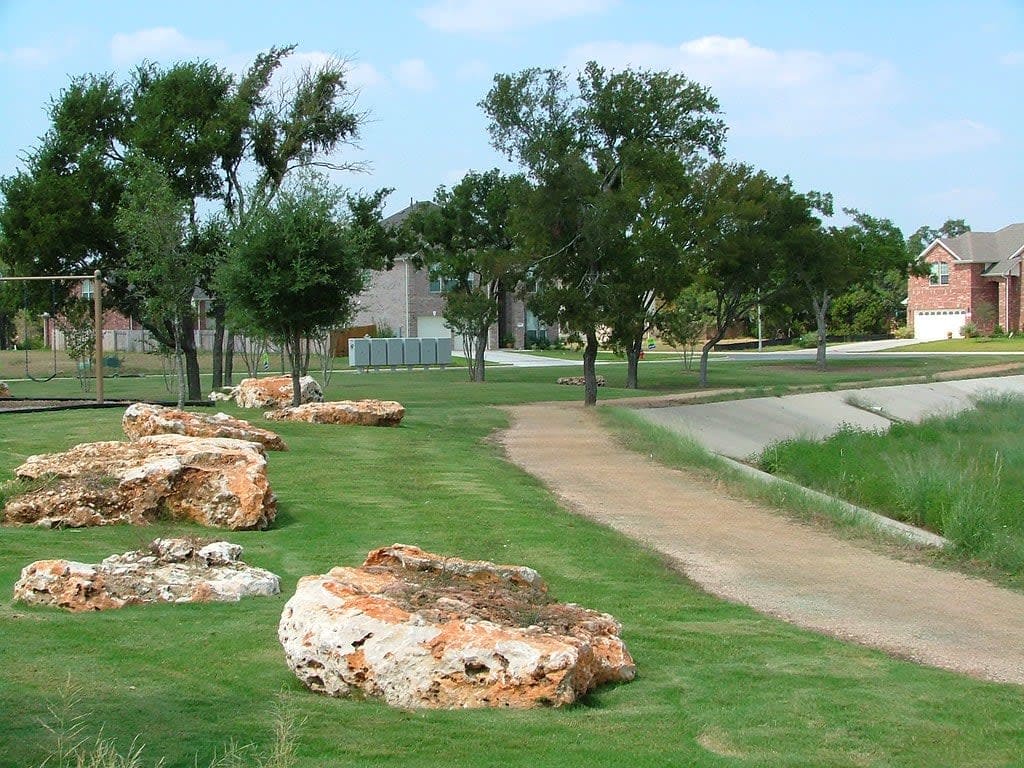 For those with families who want a no-hassle, amenity-filled neighborhood to truly call home.
Average Home Price:
Schools:
Average Cost of Living: than the Texas average
A 500-acre master-planned community in Round Rock, Behrens Ranch is a wonderful option for home seekers who don't mind being just under an hour from downtown Austin. Located within a convenient drive of the wonderful schools of Round Rock ISD, residents of Behrens Ranch also enjoy the use of two pools, a clubhouse, a covered pavilion, a greenbelt space with trails, a park, and a tennis court.
You can find a few options for dining at the neighborhood borders or drive only 10 minutes into downtown Round Rock.
Homes in Behrens Ranch
As it's a master-planned community, many homes have a similar brick style, yet the size of homes in Behrens Ranch varies greatly. Families can purchase a spacious home on an oversized lot or opt for a more modest-sized home and still enjoy the same neighborhood amenities. This makes Behrens Ranch one of the more accessible areas on our list!
Family Fun and Activities
Aside from the in-community amenities, well-rounded family fun near Behrens Ranch include the Round Rock Sports Center and nature trails and sights along Brushy Creek.
Behrens Ranch's Ranking
Academic Score: 5/5
Community: 3/5
Activities: 2/5
---
12. Tarrytown
For those looking for the creme de la creme of historic Austin homes with an unparalleled location, charm, and kid-friendly environment.
Average Home Price:
Schools:
Crime Rate: than the Texas average
Canopying oak trees caress the wide streets of Tarrytown, one of the most historic and architecturally reverent neighborhoods in the city. This gorgeous community offers the best of the best for kids and their parents to enjoy as homeowners.
Living in Tarrytown means you are just a short drive to Austin ISD's superb school system and you are also close to waterfront activities, a famous art museum, amazing food, and a golf course.
Homes in Tarrytown
As we mentioned earlier, the architecture in Tarrytown varies greatly as it was one of the first places settled in Austin. There is truly a style to meet all tastes here, from quaint bungalows to ranch-style mid-century homes to modern new builds. There are even condos for those who may not want to deal with yard maintenance. For families, most streets are generally less busy and the large yards offer plenty of space for children to play.
Family Fun and Activities
Splish Splash in the spring-fed waters of Deep Eddy Municipal Pool, grab a sweet treat at Mozart's after dinner at Hula Hut, or enjoy a stroll on the trails of the Johnson Creek Greenbelt. Added Tarrytown favorites include Mayfield Park and Nature Preserve and The Contemporary Austin, home to Laguna Gloria.
Tarrytown's Ranking
Academic Score: 2/5
Community: 4/5
Activities: 5/5
---
Whether your top priority is securing a wishlist school for your growing littles or being close to the trails and river for endless outdoor fun, we hope this list helped you explore some of the best family-friendly neighborhoods in Austin, Texas.
If you need help choosing the best area for you, the agents at Sprout Realty are here to help. Simply reach out to our team and we can match you with a knowledgeable agent who will guide you through the entire home-buying process.